COMPLETE SOLUTION FOR PROFESSIONAL DIAGNOSIS
VIN Number – Mileage – Keys
Immobiliser – Trouble Codes – Sensors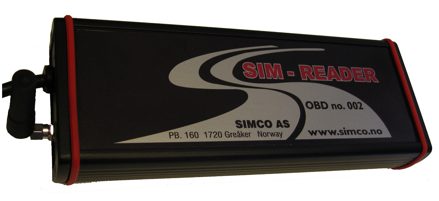 Professional Diagnostic Tool
The Sim-Reader is an advanced and effective tool, which is easy to use. It gives us access to vital data that is crucial in order to end up with the correct conclusions in the reports.
The read-out of a vehicle's actual mileage, key inventory and programming history provide a solid fundament for detecting manipulations.
The read-out of sensor values and stored data provides a good overview of the vehicle's technical condition.
The Sim-Reader can be connected to most of the newer car models. An extended cable selection makes it possible to access older models.
Easy to use
No specific automotive expertise is required for the usage of the Sim-Reader. For the correct readout, however, you have to provide some basic information about your car model.
The Sim-Reader has to be connected to the car's diagnostic port.
Usually you have to follow these steps:
Call Simco and provide some information about your vehicle
Connect the Sim-Reader to the car's diagnostic port
A technician at Simco will read out the data with the integrated GSM-unit in the Sim-Reader
The report will be sent to you via e-mail or by mail

Updating the Sim-Reader is done fairly easy through the GSM network.
Specifictations
Functions
OBD-/OBDII-/EOBD–communication
Read and delete DTC
Read "live" data
Basic settings of the ECU
Service reset
Immobiliser programming
Compatible with OBDII-/EOBD standards
Unique multiplex function
Remote updating
Systems
Motor control
SRS
Instruments
ABS
Immobiliser
Climate Control
Comfort System
Gearbox

Requirements

GSM Coverage
The vehicle has to be located in a place with GSM coverage.
Telephone
The user has to be available at the telephone
Product Overview
The products get an update and full service once a year
Sim-Reader in a convenient service case
OBD cable set in the service case with space for the Sim-Reader
Power supply for remote update
One user per licence
One subscription per licence (yearly)
Readout with report